Welcome to my first T-SQL Tuesday blog post!  This month T-SQL Tuesday is presented by new Microsoft MVP Jen McCown (Blog | @MidnightDBA) of MidnightDBA fame.  I've been a fan of the MidnightDBA web show for while, so this is pretty cool.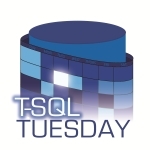 The topic this month is Resolutions.  Jen asked the question, "What techie resolutions have you been pondering, and why?"  Looking through this post after I wrote it, I realized these aren't strictly "techie" resolutions, so maybe I'm bending the rules a bit, but so be it!
NYE Resolutions
This past New Year's Eve I was at a small party with a few friends, and someone suggested we go around the room and share our resolutions for 2011. As we did, there were the usual ones you would expect to hear about losing weight, working out, relaxing and enjoying life more, etc. I think all of those are excellent, and they all are on my list as well, but the two I mentioned were a little different.
1.  The first one was to start a blog. And here it is, mission accomplished!
Well actually, there were two parts to the resolution, a) start a blog and b) keep posting throughout the year so at the end I have at least 2 posts/month for a total of at least 24 new posts in 2011. I'm enjoying it so far and have some more stuff in the works, so I think that's doable.  Hopefully I'll go well beyond that.  I was even thinking about upping my goal, but it was made officially on New Year's Eve, so I really can't.
2.  My other resolution was to get more sleep. I know that goes against the grain for almost all DBAs I know and most IT Pros in general, but I think I need it.  In 2010, I didn't get a lot of sleep, and it affected my work and my overall quality of life.
Granted I had at least one good excuse with a new baby in the house starting in February. (By the way, if you've never been up late doing a promotion, finally falling into bed, head hitting the pillow only to hear a baby start screaming… you're missing out.)  But she's been sleeping through the night for several months now (thank God). and the world is a happier place.
The thing is, if I'm on something exciting at work, where I'm learning and fully engaged, then getting less sleep really isn't a problem. It's when I'm doing something less exciting and more tedious, like estimating hours for tasks, or filling in holes in documentation, then the fatigue starts to set in…
Anyway, I get up at 5:15 on weekdays for work, so going to bed at 10:15 would give me 7 hours of sleep. I've stuck pretty close to that so far in 2011, and I am honestly feeling a lot better.
One More
So those were my two resolutions for the new year, but in honor of this TS2 event, I'll add another one…
3.  I want to work smarter in 2011. I started some of these things last year and want to continue to improve on them as this year goes forward
Continue to automate any and all processes that are automatable. Get away from the manual stuff as much as I can.
Be more organized. I made a rule for myself a while back to save everything I write so I wouldn't have to redo anything. That's great, but it can easily get out of control. If I spend 10 minutes looking for something that took 10 minutes to write and would probably take 5 minute to rewrite, is it worth it? To solve that I've tried to keep things more organized by:

Using a consistent file and folder naming convention
Adding descriptive comments with searchable keywords
Using Dropbox for organizing files, documents and scripts, and to make them available to me anywhere.

Keep a realistic number of projects going at the same time. Prioritize them correctly according to business need. Spend some time on all of my projects every day, with the most time spent on the highest priority ones. This keeps the lower priority ones from falling by the wayside, and reduces the amount of time it takes me to get back into it when that project becomes a higher priority. If I can't spend any time on a project for a few days, question if it should move to someone else, or if it should be a project at all.
Final thoughts
I think that's enough for now. I'm not sure if these are resolutions or goals (is there a difference?), but either way, I plan to review them throughout the year. I'll do an update at the end of 2011 with how I did. Maybe one at 6 months as well – 2012 seems like a long way off right now.
Happy New Year!